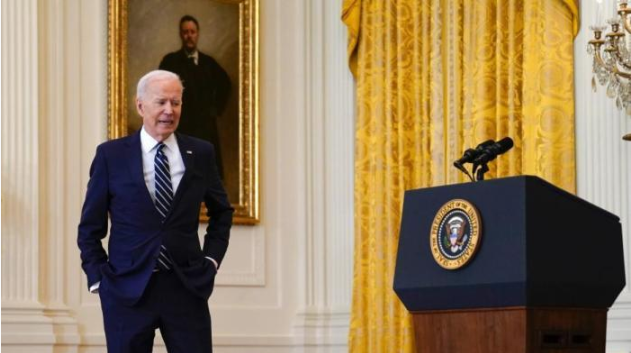 According to a comprehensive report, the US Russian relations have been tense recently, and the two sides have been playing tough "tricks" through sanctions and anti sanctions. On the other hand, US President Biden has issued an invitation to Russian President Vladimir Putin for a meeting. Will Putin take the call? Russian officials said on the 25th that Putin and Biden may meet in June. Russian Foreign Minister Sergei Lavrov also put down harsh words on the same day, saying that if the US side continues to upgrade sanctions, Moscow is ready to take more measures.
On March 25 local time, US President Biden held his first official press conference in more than 60 days since taking office, answering hot issues such as the border crisis, gun control and infrastructure plans.
Did Putin accept Biden's invitation?
In fact, as early as March 18, Putin proposed to have an open online dialogue with Biden within a few days, because on March 17, when US President Biden was asked whether he thought Russian President Putin was a "killer", he gave a positive answer, which aroused strong reaction from the Russian side.
But Biden only said he believed he would have a talk with Putin "at some point.". Later, on April 13, Biden suddenly proposed to hold a summit with Putin in a third country to discuss bilateral relations. Since then, Biden said he had proposed a summit with Putin in Europe this summer.
At a time of tense relations between the United States and Russia, will Russian President Vladimir Putin accept the "invitation" of US President Biden? Russian Presidential Assistant Ushakov said on the 25th that Putin and Biden may meet in June.
Russia's "channel one" TV station broadcast an interview with Ushakov on the same day. Ushakov made the above remarks in the interview.
He said that the US side's signal of hope for the leaders of the two countries to meet has been received, but the final decision depends on many factors. Putin's meeting with Biden may be in June, or even has a "specific date". But Ushakov did not give a specific date.
On the same program, Russian Foreign Minister Sergei Lavrov reiterated the foreign ministry's statement earlier this month, saying that Russia "views the summit proposal positively and is currently considering it."
On April 21 local time, Russian President Vladimir Putin delivered a state of the Union address in Moscow.
If the Russian side is tough first, I will accompany you to the end if you upgrade
However, on the day that Ushakov hinted that Biden and Putin might meet in June, Russian Foreign Minister Lavrov also said that if the US side continues to upgrade sanctions, Moscow is ready to take more measures.
"All this is our response to the latest unfriendly move by the United States. We have announced all the measures that have been taken, and we are ready to take more measures if things continue to escalate. " Lavrov said.
On April 15, the United States imposed new sanctions on Russia, targeting 32 individuals and organizations. The sanctions also prohibit U.S. financial institutions from buying bonds issued by the Russian government in the primary bond market after June 14. In addition, Washington said it would expel 10 Russian diplomats.
Russia announced a series of retaliatory measures against U.S. sanctions, including expelling diplomats, banning several U.S. officials from entering the country, and advising U.S. ambassador to Russia Sullivan to return to Washington for consultations.